Summer means long days in the sun and time spent down by the ocean or the lake to cool off. Our Rapid Reads are perfect picks for Mom or Dad while the kids build sandcastles or are tucked into bed, and finally finally asleep.
When Blood Lies, A Nicole Charles Mystery
Vancouver Post gossip columnist Nicole Charles is only slightly put out when she discovers she's been downsized. She figures she's lucky to still have a job. It just means she needs to get a desk so she can work out of her apartment. But the desk she buys at auction proves to have more history than she'd anticipated, and the cache she finds in a secret compartment in that desk has links to a money-laundering ring, and an old school-mate. Will this be the story that lands Nicole a job on the news desk? Even while she struggles to solve the case, she wonders if she'll ever get the recognition she figures she deserves. When Blood Lies is the second novel in a series of mysteries featuring rookie reporter Nicole Charles.
Love and Fear, A Gulliver Dowd Mystery
When the daughter of the most powerful Mafia don in New York goes missing, the don's right-hand man comes to Gulliver Dowd for help. Problem is, the right-hand man and Dowd despise each other. Plus, the don knows who murdered Dowd's sister, Keisha, but refuses to share that knowledge with Gulliver. Still, Dowd makes a devil's deal and hunts for the girl. Old secrets and lies boil to the surface, threatening to destroy the lives of everyone involved. But who has the girl? An eccentric art professor, or one of the don's many enemies? Will Gulliver find her, or will their fates dissolve in a corrosive stew of love and fear?
Kat is a tough, independent woman who makes her living as a professional poker player. She is single, childless and happy about it. But when her best friend, Josie, commits suicide, she names Kat as the temporary guardian of her ten-year-old son, David, until his father can come for him. In the few weeks that David is with her, Kat finds herself changed in ways she had never thought imaginable. With the old poker adage "bet with your head, not your heart" ringing in her head like a warning bell, Kat nevertheless finds that all the money and success in the world don't mean a thing unless you have someone to share it with.and that maybe there is more to life than winning after all.
The Goddaughter Caper, A Gina Gallo Mystery
In The Goddaughter Caper, Gina Gallo finds herself embroiled in her family's shady dealings when a body turns up at her uncle's restaurant. But it's just the beginning of her problems. Strange things keep happening in Steeltown. A body shows up in the trunk of Gina's car. Another is mistakenly shipped to her cousin Nico's new store. And then Gina and Nico stumble across a stash of empty coffins! Worse, everything mysteriously points to her own retired relatives from the Holy Cannoli Retirement Home. Gina is determined to get to the bottom of it. But she'll have to act fast, because the police are right behind her. This is the fourth in a series featuring Gina Gallo, who wants nothing more than to run her little jewelry store but, try as she might to escape it, somehow Gina gets drawn into the family business, with hilarious consequences.
Before you settle in with The Goddaughter Caper, try this delicious cannoli recipe to get into the Italian mind-set: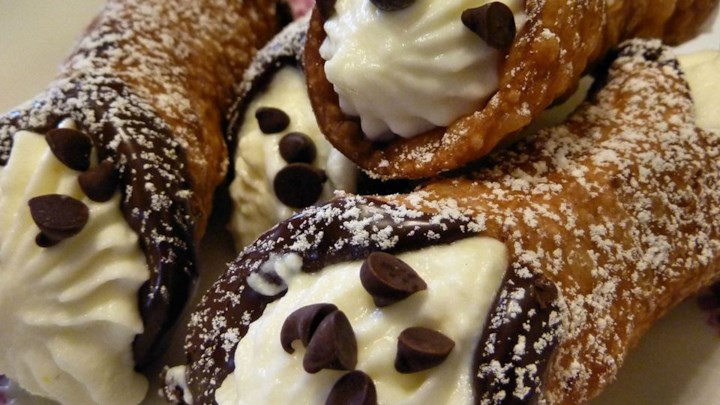 Prep time: 45 min
Cook time: 1 hour
Ingredients:
Shells
3 cups all-purpose flour

1/4 cup white sugar

1/4 teaspoon ground cinnamon

3 tablespoons shortening
1 egg
1 egg yolk
1/2 cup sweet Marsala wine
1 tablespoon distilled vinegar
2 tablespoons water
1 egg white
1 quart oil for frying (or as needed)
Filling
1 (32 ounce) container ricotta cheese
1/2 cup confectioners' sugar
1 teaspoon lemon zest, or to taste
4 ounces semisweet chocolate, chopped (optional)
Directions:
In a medium bowl, mix together the flour, sugar and cinnamon. Cut in the shortening until it is in pieces no larger than peas. Make a well in the center, and pour in the egg, egg yolk, Marsala wine, vinegar and water. Mix with a fork until the dough becomes stiff, then finish it by hand, kneading on a clean surface. If needed, add more water to incorporate all the dry ingredients. Knead for about 10 minutes, then cover and refrigerate for 1 to 2 hours.
Divide the cannoli dough into thirds, and flatten each one just enough to get through the pasta machine. Roll the dough through successively thinner settings until you have reached the thinnest setting. Dust lightly with flour as needed.
Place the sheet of dough on a lightly floured surface. Using a form or large glass or bowl, cut out 4 to 5 inch circles. Dust circle with a light coating of flour. This will help you later in removing the shells from the tubes. Roll dough around cannoli tubes, sealing the edges with a bit of egg white.
Heat the oil to 375* F in a deep-fryer or a deep heavy skillet. Fry shells on the tubes a few at a time for 2 to 3 minutes, until golden. Use tongs to turn as needed. Carefully remove using the tongs, and place on a cooling rack set over paper towels. Cool just long enough that you can handle the tubes, then carefully twist the tube to remove the shell. Using a tea towel may help you get a better grip. Wash or wipe the tubes between uses. Cooled shells can be placed in an airtight container and kept for up to 2 months. Fill before serving.
To make the filling, stir together the ricotta cheese and confectioners' sugar. Fold in lemon zest and chocolate. Use a pastry bag to pipe into shells, filling from the center to one end, then doing the same from the other side. Dust with additional confectioners' sugar and grated chocolate for garnish.
Tips:
Cannoli tubes are crucial! These are hollow, stainless steel tubes 6-8 inches long.
Having 2-3 people on cannoli duty helps keep the process moving. One person rolling and cutting, one person dusting and egging, and placing on metal tubes, and the last person frying shells and removing the cooked shells.
The filling can also be made using grated orange zest. Other variations include using small chocolate chips, maraschino cherries, or dipping the ends of the cannoli into chopped pistachios.